Hey friends!!! Hope everyone had a great weekend and here's wishing you a speedy work week to an awesome weekend. The reason for my post tonight is Jared has been nominated for Best Indie Paranormal Romance and Best Indie Book Cover. Damon, which I just found out about, has been nominated for First Indie Book. I have also been nominated for Indie Author of the Year. I'm excited to be nominated in these awesome categories. So if you have read either book and like them please go vote. I would appreciate it so much.
Now if you haven't read Damon and Jared or if you see your all time fave author on the list, because there are a lot of awesomeness nominated, then please support them and vote for them. Yeah, I said that and yeah, I meant it. LOL! There are also categories for cover artist, bloggers, etc. So check it out and support the writing world. So very important!
I'm keeping this short so I can get back to working on Duncan which is coming along wonderfully…fingers crossed that continues. So have a safe and wonderful week! Talk to you soon!!!
Don't forget to VOTE!!!!
http://indieromanceconvention.blogspot.com/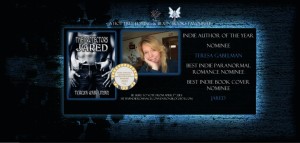 Hugs,
Teresa
Paranormal Romance with a Twist!!!!